NO JOB TOO TOUGH
The Ineos Grenadier is a no-nonsense 4X4 that is built to get the job done. In all conditions, over any terrain, you can count on this tough purpose built 4×4.
BUILT ON PURPOSE
The INEOS Grenadier 4X4 is a serious off-roader built from the ground up to ensure that it works for you, whatever the job. Arriving at Busseys soon this rugged 4×4 has already taken on the world's toughest terrains and weathers through an extensive testing and development programme covering over 1.8 million km in 15 countries. This means if something needs doing you can count on the Grenadier to help get it done.
Uncover all there is to know about how the Grenadier delivers.
MAKE IT YOUR OWN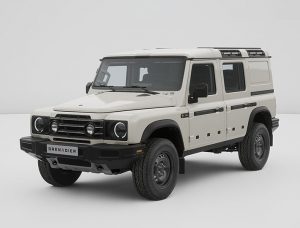 2-SEAT UTILITY WAGON
–
Designed primarily to carry loads, the two-seat Grenadier Utility Wagon is certified as a commercial vehicle. It comes with a full-height cargo barrier and a full-length flat floor capable of taking a standard Euro Pallet (1,200mm x 800mm).
PRICE FROM £64,500.00†
FORM FOLLOWS FUNCTION
Every small detail within the Grenadier was considered to guarantee it served a purpose. This approach has created a cabin that is not only functional but intuitive, delivering everything you need and nothing you don't.
The buttons and switches are ideally spaced and placed instinctively where you would expect to find them. Everything is where it needs to be, and can be operated with gloves or wet hands. Less frequently used controls like off-roading options, aux power switches, and diff locks are found on the overhead control panel so they can be operated by you or your co-pilot.
As part of the standard utility trim the Recaro seats are hard-wearing and stain-and water-resistant, whilst the flooring is heavy duty with drain holes meaning it can be hosed down after a hard day.
Although this is a tough, hardworking 4×4, this practical approach does not impact on comfort and features. Driving position, interior ergonomics and on and off-road refinements have all been built in from the start. The suspension, seating, insulation, and powertrain all work together to deliver a quite cabin with reduced noise and vibrations and a smooth ride. There is also a bespoke infotainment system with on-road navigation delivered through the integrated Apple Carplay / Android Auto system along with a Pathfinder Off-Road Navigation System for when the roads run out.
FIND OUT MORE
SERIOUSLY CAPABLE
GO OVER IT, GO THROUGH IT
–
The Grenadier is optimised to ensure you will get to wherever you need to be no matter the terrain. With permanent four-wheel drive, two speed transfer case, centre, rear, front locking differentials and approach and departure angles tailored for off-road usage, it is more than capable for any task.
WORKHORSE AND WORKSTATION
–
From boats, horse boxes and trailers the Grenadier is ready to pull its weight. The powerful BMW engine, transmission from ZF and axles by Carraro all blend seamlessly to produce the ultimate pulling workhorse.
Combined with an electrical power takeoff, USB connectivity and a system that lets you plug in your own tools and accessories it is a workbench, generator and 4X4 all in one.
KEEP ON ROLLING
–
Bridgestone all-terrain, all-season tyres with Three-Peak Mountain Snowflake certified treads provide excellent performance in the trickiest of conditions. The high blocks and wide gaps in the tread pattern gives outstanding traction and the confidence to keep exploring no matter what the conditions are.
HOW TO FIND US
Busseys are the sales and service agent for INEOS Automotive in Norfolk, Suffolk, and Cambridgeshire. Our new base camp in Attleborough, Norfolk will be opening soon. Customers will be able to experience the INEOS Grenadier, both on the road and at our nearby off-road facility.
Our sales team are here Monday to Friday 8.30am to 5.30pm and Saturday by appointment only to show you around the INEOS Grenadier and to help you pick the right one to meet your needs.

CONTACT BUSSEYS