STAY TUNED, Upgrade to Digital Radio
Are you ready for the digital switchover?
The countdown to full digital radio switchover has begun. Based on the Government's current target, nearly all National and Regional radio stations will disappear from AM/FM frequencies during 2015.
Of course you don't want to be left driving in silence. And because there's more room on digital radio, you could be listening to more of what you love. So why not have your car upgraded to receive Digital Audio Broadcasting (DAB) radio?
Why get DAB now?
You'll be fully prepared for the switchover
You can listen to extra digital radio channels not available on FM, including 1Extra, BBC4 Extra and BBC World Service
Plus listen to all your favourite channels including BBC 5 Live Extra, TalkSport, Planet Rock, Kiss, Absolute
Radio and Premier Radio
Digital-quality signals
Easier to find stations – by name or format, not frequency
Take advantage on our great offers on DAB
We've got two great solutions for you. Take a look at the Peugeot AutoDAB and EZi-DAB systems and then talk to us, your local dealer, about the best option for your car.
Incidentally, as Peugeot approved accessories the AutoDAB and EZi-DAB systems will be supported by a 12-month parts
accessory warranty.
However, if you buy a new Peugeot vehicle and have an AutoDAB or EZi-DAB system fitted before it's delivered to you, this system will also be covered by a 3 year warranty. This is in line with the terms and conditions of Peugeot's new car warranty.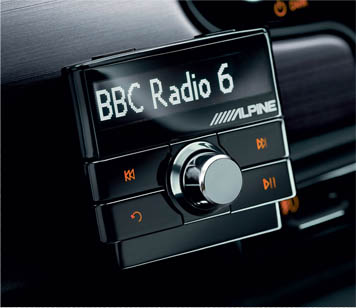 EZI-DAB
£284.99 FITTED AND INCLUDING VAT
A digital radio adapter that is designed to mount onto the dashboard. It connects to your existing in-car stereo, providing outstanding digital radio reception as well as having the ability to connect and control iPod, iPhone and iPad, and many AUX and USB devices.
Colour illumination choice to complement your existing radio display
Small, discreet antenna
Full iPod, iPhone and iPad control
USB connectivity
Dual tuner – no need to re-tune as you drive
Pause and rewind live broadcast
Picnic mode – listen with ignition off and car keys removed
To identify whether this EZi-DAB system can be fitted into your Peugeot please Contact our Parts department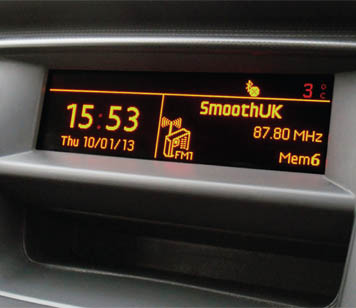 AUTODAB
£214.99 FITTED AND INCLUDING VAT
An integrated solution which uses the vehicle's multifunction display and is controlled by a remote control plip.
Stores 30 pre-set stations
Integrates with vehicle's existing radio display screen
Controlled from remote plip
Built in Traffic Message Channel (TMC) receiver for traffic alerts
100s of new radio stations
Windscreen mounted antenna
To identify whether this AutoDAB system can be fitted into your Peugeot please Contact our Parts department