The perfect blend of technology and craftsmanship, performance and efficiency, innovative design and precision engineering, the all-new Ford Mondeo is designed to inspire.
Ford Mondeo Special Offers
Ford Mondeo Hybrid
The Hybrid has a state of the art self-charging system meaning you won't need to stress about how much charge is left or where the next charging station is. It simply recharges itself! With a combined fuel economy of over 70 miles per gallon and a system that is forever working to deliver CO2 of just 92g/km, the Mondeo Hybrid is certainly a game changer.
cycles it to recharge the battery.
New 2019 Ford Mondeo Hybrid
Ford Mondeo Hybrid Technology
The Mondeo Hybrid is packed with the beautiful design and innovative technology that you would come to expect from a traditional Mondeo. 18″ Alloy Wheels set the Hybrid off perfectly, along with automatic headlights with auto high/low beam.
Ford have not left out any of the technology in the hybrid either, rain sensing front windscreen wipers are available; as well as traffic sign recognition, lane keeping aid and an auto dimming rear view mirror just to name a few.
Ford Mondeo Hybrid Engine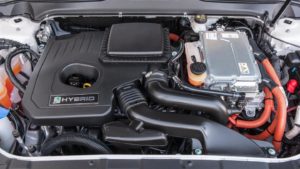 The Mondeo Hybrid has been designed to reduce emissions which in turn will save you fuel and money. You get the best of both world with the Hybrid, a powerful and highly efficient 2-0 litre petrol engine has been specially designed for longer journeys in the Mondeo. For those shorter journeys an advanced electric motor takes over. A light lithium-ion battery powers the Hybrid and has a power consumption of 1.4kWh. Not only this but, Regenerative Braking captures up to 90% of energy that is normally lost through friction brakes and then recycles it to recharge the battery.
Mondeo Hybrid - How it works