Lorraine Morris has over 20 years experience getting disabled people moving
Lorraine Morris has worked at Busseys, Main Ford Dealer in Norwich since 1996. She's spent over 20 years working in Motability, so she's an expert in making sure disabled people get the right car for them. Here she describes what you'll experience when you come in and how we work to make sure you get a vehicle that's suited to your needs.
What is Motability?
"Motability is a government scheme that enables disabled people in the UK to lease a new car using their Government funded Disabled Living Allowance, War Pension, Armed Forces Independence Payment, or Personal Independence Payment.
"Some people have no idea Motability exists. One woman came in not knowing she could even get a car. She left a few weeks later in a brand new car having never had a new car in her life.
"Some people think Motability is really hard to do. They're scared to come in the showroom sometimes! But if you can turn that around and get someone a lovely new car, it can give them a whole new lease of life – that it gives me such satisfaction.
"People are so happy, but I always say, 'I'm just doing my job'."
Why is it called 'worry-free' driving?
"It's called 'worry-free driving' because the service includes the insurance, RAC cover, tyres, glass and servicing work. All you have to do is put fuel in it. It's worry-free for people who have other issues to think about."
How do you know what I need?
"The main question is whether a car is suitable for a particular disability. I spend more time talking about seat height and boot space than I do anything else.
"The most important things are ease of getting in and out, and any essential equipment that people may need to carry with them, such as wheelchairs and oxygen tanks.
"Some people don't drive and have a driver instead, so they have different needs.
"Sometimes a standard car doesn't meet a customer's exact requirements so we can work with a Motability-approved adaptation specialist to make a car that suitable. There are things like hand control, boot hoists and person hoists to get people in, which we can offer as a solution if people's initial car choice doesn't meet their exact requirements."
What if my condition changes?
"The Motability contract is for three years, so we use a comprehensive suitability questionnaire to make sure the solution is going to be the right one over time. Some conditions can deteriorate and what people need from their car can change.
"Motability can amend a contract mid-term – changing from a manual to an automatic, for example. I wouldn't be doing my job well if I allowed someone to pick manual at the beginning, knowing that they'd probably need an automatic in time."
Everyone's different, aren't they…
"I see a real cross-section of people. Some people are really into their technology, while others are focused on their budget. And of course people have a range of demanding needs – most of which I can assess and address.
"The most common adaptations are hand controls for the brakes and accelerator. We also arrange boot hoists and move accelerators to the left for amputees or people who have had a stroke.
"I did have an extreme case where a customer with a Ford Galaxy had electric everything. Now he drives with a joystick, not a steering wheel."
"We also offer roof boxes which allow a customer who is unable to stand or bear their own weight, to go from a wheelchair to the driver's seat and then store their wheelchair. The roof box tips up and lowers via a chain mechanism that, once the driver is seated, lifts the wheelchair up into the box."
Knowledge and skills
"I've always been interested in health, which is why I studied it at college.
"My job is to listen to people's problems, not just try to sell them something. We talk about people's lifestyles, their problems and the things they encounter day-to-day.
"People like to tell you about every operation they've ever had – which I find quite interesting! It's all part of building a rapport and making sure customers get the car they need."
Aren't you just trying to sell cars?
"We don't use the hard sell approach. We don't say: 'get all this money off!' We don't try to sell the highest-spec, most expensive car or the latest upgrade. My job is to define what's best for a given person. Yes we have to sell cars, but it's not a success unless we match someone into the right car."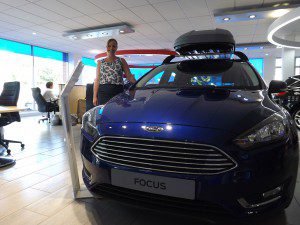 What are my options with cars?
"We have a wide range of cars for people to choose from. Currently the Ford Focus and Ford Kuga are the most popular, although almost all Fords are available.
"We're finding that people want high seating positions more and more so the SUV style (EcoSport and Kuga) is becoming very popular."
"We also have the most up-to-date technology on offer, including things like Sync. This system links the driver's phone to the car so they are able to make safe, completely hands-free calls using voice control. Sync also includes standard emergency assistance. This means that if they're involved in an accident, it automatically calls the emergency services. For people who have limited mobility it can be a life-saver."
And this is why Lorraine has won a number of awards – from sales to customer service. Unsurprisingly, Lorraine is proudest of her customer service awards – and often receives thank-you cards from customers whose lives she has changed for the better. Such is her relationship with many customers that she stays in touch after a sale.
Find our more about Motability