The New Transit Connect, even smarter than it looks
Ford have introduced an updated Transit Connect, with a sophisticated new look, comprehensive interior and more advanced technology than ever before. So, what have Ford changed? We take a look in detail below.
Exterior
A smart new front has been given to the Connect with an imposing three-bar grille and it has a more aerodynamic lower fascia. Adding to the aerodynamics of the Transit Connect are the smaller wing mirrors which in turn supports fuel efficiency. However, if you prefer to have larger wing mirrors (with the second blind spot eliminator mirror) then these are an option on the Transit Connect.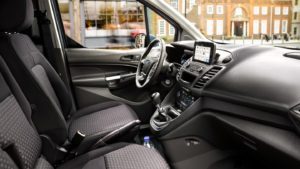 Interior
Ford have upgraded the interior of the Transit Connect with a revised instrument panel that can incorporate a floating tablet-inspired 6″ colour touchscreen (optional) In addition to this, a range of new seat trims across the range provide a stylish environment. Available on all van versions with a dual front passenger seat, a load-through bulkhead lets you carry items up to 3m long in a short wheelbase van and up 3.4m in a long wheel-base model. A flip-up hatch is located at the bottom of the bulkhead which enables you to slide long items through and into a storage area beneath the front passenger seats.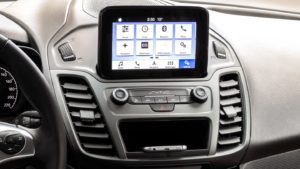 Technology
The Transit Connect is equipped with SYNC 3 providing you with an effortless hands-free experience. Optional Intelligent Speed Assist is designed to enhance your speed control and enabling you to concentrate on the road. It automatically detects current speed limit and then adjusts your maximum speed setting to that limit. The Connect is also fitted with Pre-Collision Assist which will detect vehicles and pedestrians in the road ahead. The system will warn you if it detects a potential collision and will automatically apply the brakes if you don't.