We're sure you've heard the news about the Next Generation Ford Fiesta being released very, very soon!
We're just as excited as you are and can't wait to tell you more about this fantastic car but for now, we wanted to celebrate all things Fiesta. The best way to do this? Well, to go back to the year it all started; 1976!
Ford Fiesta Mark 1 1976
The Fiesta's story started in the 70's when Ford launched Project Bobcat, aiming to build a car to compete in a market where the demand for modest and economical vehicles was rising. After several years of planning and prototyping, Ford unveiled the Fiesta Mk 1 and in 1976 it went on sale. The new Fiesta was just what the public wanted, it was cheap to buy and cheap to run.
Check out Ford's first ever launch video for the Fiesta Mk1!
Fiesta Mark 2 1983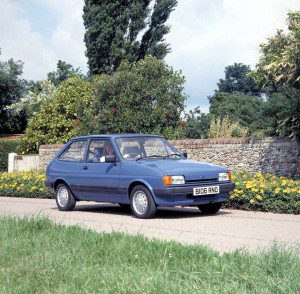 In 1983 Ford launched the Fiesta Mark 2. Fiesta Mk1 was selling so well Ford decided that they didn't need to change too much when it came to the Mk2.
It was, however, given a rounder front, spruced-up interior, a new dashboard and an option for a 1.6 litre deisel engine. A five-speed manual gearbox, high security Chubb locks and a option for an automatic gearbox were also added to the mix.
The Mk2 seemed to benefit from the minor changes as it held it's ground against new competitors such as, the Vauxhall Nova and Corsa. It even managed to outsell the VW Polo and remained the top-selling car until the end of that decade!
Fiesta Mark 3 1989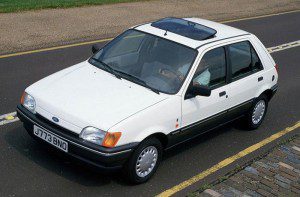 The Fiesta Mk3 brought around a lot of change for the compact car, it was the first ever small vehicle to be fitted with ABS and it also came with 1.0 litre and 1.1 litre engines which kept running costs low.
However, where the Mk3 differed from its previous generations was with its longer and wider body shape and an increased wheelbase. A five-door model was introduced as there was a demand for a bigger Fiesta.
Fiesta Mark 4 1995
The Mk4 represented Fords step into the future and can still be seen driven on our roads 22 years later. An aerodynamic body, packed electric door mirrors and windows along with an iconic oval grille at the front were sure to get heads turning. The Fiesta continued to succeed with the Mk4 by being Britain's bestselling car from 1996 – 1998!
It came with a range of new Zetec-SE engines – 1.2 litre & 1.4 litre, however with those who valued low running costs Ford didn't change the lower-spec models and kept them available. Those who wanted an Mk3 Fiesta could still purchase one as, once the Mk4 was launched Ford continued to sell the Mk3 for a couple more years. It was marketed as the 'Fiesta Classic' and stayed in production until 1997.
Fiesta Mark 5 2001 
An update to the model was long overdue when Ford introduced the fifth generation Fiesta at the IAA Frankfurt Motor Show. Launching as a five-door version with a new line-up of engines including a 1.3 litre and a 1.6 litre Duratec petrol engines, the Mk5 was sure to be a success. Later on Ford introduced a three-door version, answering to the demand of the growing small-car market.
The launch of the Mk5 cemented the Fiestas position as a reliable, small economical car becoming a favourite among young adults and students looking for a cheaper car. The Mk5 also lef to the first Fiesta ST, which was the most powerful Fiesta at the time.
Fiesta Mark 6 2008
The Mk6 went into production in several countries, including China, Germany, Spain and in 2010 was on sale in Europe, Asia and North America. To keep in line with the demand for eco-friendly cars, Ford introduced the Fiesta ECOnetic which was to become the most fuel-efficient five-seater family car in the UK at the time. The Mk6 is Fiesta's bestselling generation to date.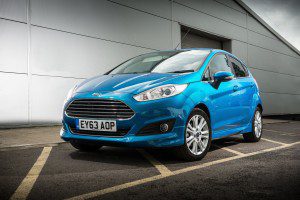 Fiesta Mark 7 
Fiesta's current generation is the most technologically advanced, Ford introduced keyless entry and keyless start, ambient lighting, electric power-assisted sterring and parking sensors!Brand new safety features were added such as its MyKey technology. This technology allows parents to set top speed and limit audio volume helping to promote safer driving among younger drivers. In 2014 the Fiesta ST Line was unveiled looking to meed the demand for high-performance small cars. The ST Line featured new EcoBoost engines!
2014 only got better as far as the Fiesta was concerned; it became the bestselling vehicle ever in the UK, surpassing 4.1 million registrations achieved by the Ford Escort.
It's safe to say the Ford Fiesta is a remarkable car with great history! So, watch this space for news and information about the Next Generation Ford Fiesta
In the meantime to celebrate all things Fiesta why not take this quiz to find out which decade you belong in!