Our new Service Manager at Dereham, Swaffham and Fakenham
You may have seen a new face in our service department at Dereham recently. Well, we would like to introduce you to Mark Ratcliffe our new Service Manager at Dereham, Fakenham and Swaffham! We sat down with Mark and discussed his plans for our Dereham branch, what he gets up to outside of work and a range of other topics. So get comfortable and grab a cuppa.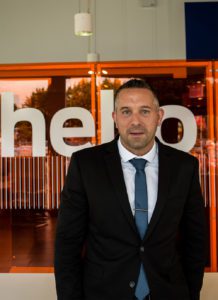 Tell us a little bit about yourself
I first started work with UniParts back in 1993, from there I was a parts runner for Landrover and Rover. I then moved into the Goods Inwards side of things as well as the parts side and parts advisor. I moved across to Jaguar in 1997 I think it was and was there for 9-10 years as a parts advisor and I did a little bit of service work as well. Then in 2002 I moved to Mercedes Benz for 15 years in the parts department and then went up through the service department, warranty, workshop control, service advisor and then senior service advisor. A bit of everything basically!
So you've been in the motor trade for a while then?
Yes! 25 years I think, not that I really want to count anymore!
What is the best thing about working in the motor trade?
Working with a good bunch of people, the products. Working with the manufacturers. It's a good industry to be a part of.
So you've recently started as the new Service Manager at Dereham. What would you like to achieve?
Where we are at the moment, it's a great place to be, great surroundings and lots of potential here. There's a great team here already. So, I want to just bring out all of the good we do and work on the stuff we need to improve. I want people to stand back, look at Dereham and say "what are they doing? They must be doing something really good here, that's what we need to do" I know it's going to take time to get to the that point but that's really where I want to get to.
Steering away from the motor trade, what do you get up to outside of work?
I go to the gym, do a bit of cycling, I like to play football with my boy. The wife and kids keep you entertained most of the time.
Favourite band?
I suppose I've got quite an eclectic taste in music. I'm more of a 90's boy so anything from the 90's. The Britpop days I suppose, a bit of dance music, a bit of everything!
Last question and a bit of a silly one. If you could be any cheese what cheese would you be and why?
That's a difficult one… I don't know. Red Leicester! You know what you're dealing with
We'd like to thank Mark for taking time out of his busy schedule and we look forward to many years working with him!