New Peugeot 508 RXH Diesel Hybrid4 launch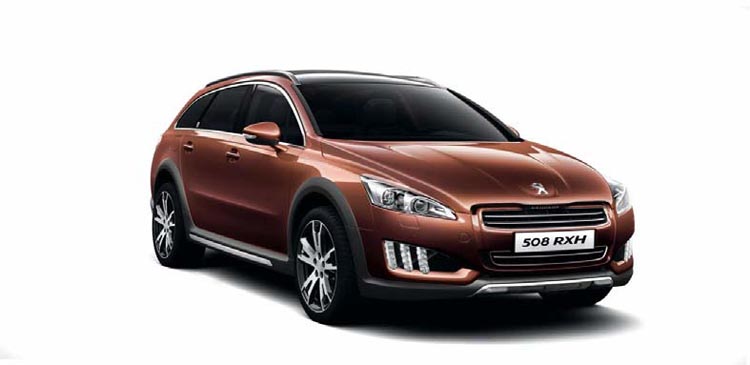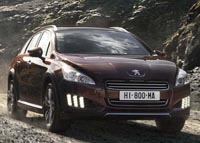 Key Specification:
• Lama leather and Alcantara upholstery
• Peugeot Open and Go system
• Electric, heated, memory seats
• Motorised tailgate
• Attila18" Alloy wheels
• Xenon headlamps
• Front parking aid
• Automatic quad-zone air conditioning
• JBL Hi-Fi
• Unique number plaque
• 107 g/km CO2 & 67mpg
"Peugeot will set new standards for fuel economy and CO2 emissions in the premium all-wheel drive segment" – Autocar July 2011
"Combines jacked-up suspension and rugged bodywork with a revolutionary new diesel hybrid powertrain" – Auto Express July 2011
Following the successful introduction of Diesel HYbrid4 on 3008, Peugeot will continue the application of HYbrid4 technology during 2012, with the launch of 508 RXH Diesel HYbrid4 and 508 Saloon Diesel HYbrid4.
Although a similar silhouette to 508 SW, the RXH body has been raised and widened giving a much more robust presence. The above quotes typify the enthusiastic response to the initial press release of the Peugeot 508 RXH Diesel HYbrid4, the second model to deliver Peugeot's ground-breaking technology to an increasingly receptive and knowledgeable marketplace.
The Peugeot 508 RXH Diesel HYbrid4 will be officially revealed this week at the Frankfurt International Motor Show and the arrival of RXH will be heralded by the availability of a very limited volume launch edition.
The launch edition is a central feature of Peugeot's product display at Frankfurt and, with a total worldwide production volume of just 300, each launch edition will be individually numbered and 30 of these have been secured for sale in the UK market. The specification is exceptional. Copper metallic paint, full leather/Alcantara trim, Xenon headlamps, Quad-zone air conditioning and JBL Hi-Fi are among the details added to the already impressive base specification of the conventional RXH.
The Peugeot 508 RXH Diesel HYbrid4 will be launched in the UK at the end of April 2012.