The New Ford Mustang Mach 1
Arriving on UK soil in 2021, the Mustang Mach 1 is a serious Mustang meant for those who are serious about performance. The Mach 1 has a 5.0 litre V8 engine which delivers a colossal 460 PS at 7,500 rpm, and 569 Nm of torque at 4,600 rpm!
Register Interest
The Mach 1 has an aggressive and commanding presence on the road with its signature Satin Black side and hood stripes along with its optional 19″ Tarnished Dark alloy wheels with exclusive Michelin tyres. Aerodynamic enhancements have been made which include the front splitter, belly pan and rear deffuser. These work in tandem to deliver more downforce than a standard Mustang GT.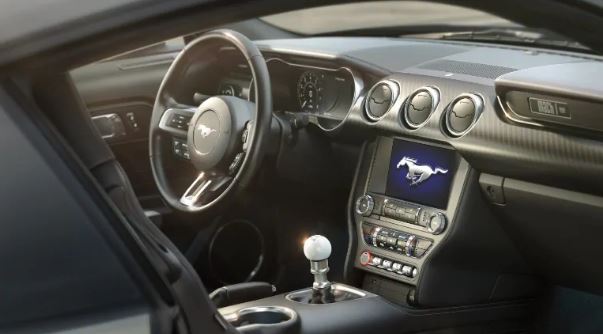 The Mustang Mach 1 interior provides style, comfort, as well as performance. You are met with premium leather sports seats with signature Mach 1 accent stripes. Unique to the Mach 1 is the dark-effect instrument panel, white cue ball gearshift knob, Mach 1 limited-edition badge. A 12.3″ digital instrument cluster gives key information, whilst a host of smart assist technologies improve your driving experience.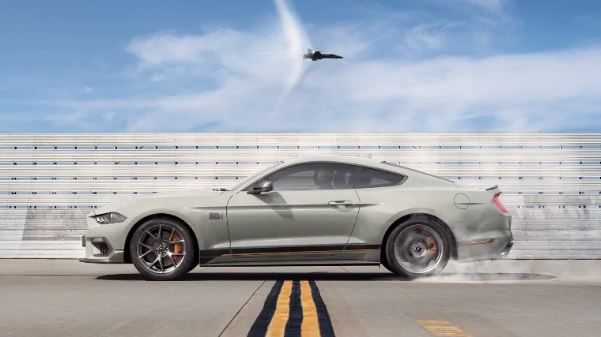 Selectable drive modes are available on the Mustang Mach 1, you can choose from Normal, Sport, and Track to suit the environment you're driving in. The Mach 1 is also available as a track tested 6-speed manual or 10-speed automatic transmission. Under the bonnet, you'll be met with a specially calibrated 5.0 litre V8 engine which is capable of an impressive 460 PS at 7,500 rpm, and 569 Nm of torque at 4,600 rpm.