We've got all the information you need to know about the All-New Ford Fiesta!
There has been a lot of hype surrounding the All-New Fiesta and for a good reason too. Packed with clever technology, beautiful design and advanced safety features, this Fiesta is definitely one not to miss. We're here to give you the run down on all things Fiesta!
Let's start by taking a look at the overall key features of the All-New Fiesta…
Driving Experience
The All-New Fiesta is packed with a whole range of intelligent features and systems, making your driving experience more relaxing and stress free! Tehnologies so smart such as, Active Park Assist, Adaptive Cruise Control, Lane Keeping Aid and Traffic Sign Recognition, you'll be wondering how you ever did without them*
Cruise control that can adapt automatically: The Fiesta's Adaptive Cruise Control technology allows you to choose the
speed you want to drive at, fairly common in most vehicles nowadays and a handy technology to have on long motorway journeys. However, the Fiesta takes this technology to the next level with its built-in RADAR sensor. The RADAR sensor can detect vehicles ahead and will slow your vehicle down to maintain a pre-set distance, once the road in front is clear; the system will accelerate to your chosen speed.
Stress-free parking and pulling out: Parking can be a real pain sometimes but, fortunately for you, the new Fiesta has the solution to all of your parking related troubles. The All-New Fiesta is equipped with Active Park which uses a combination of different technologies that do more than steer you into those difficult parking spots. With Park Out Assist getting out of them has never been so easy either. Parallel and Perpendicular Parking system can sense if there's a space that your car will fit into and will then reverse you in. The Fiesta is also equipped with Side Parking Aid to warn you of any lateral obstruction.
The Fiesta is packed with a number of other features for example, Blind Spot Information System is included which uses RADAR sensors to scan the blind spots on either side of your Fiesta. These RADAR sensors detect any vehicles that you may not see, illuminating an orange light in the corresponding side door to warn you. Other intelligent features such as, a Lane Keeping Aid, Traffic Sign Recognition and Power-assisted steering are available.
Comfort and Convenience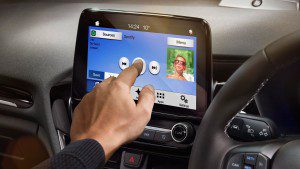 With the ever increasing smart technologies for your home making life easier, Ford have decided that these should be introduced in the car you drive. That's why the All-New Fiesta is equipped with SYNC 3, B&O PLAY and an openable panoramic roof making driving enjoyable, comfortable and convenient in every way imaginable*
SYNC 3: A state-of-the-art system enabling you to stay connect and control your phone, music and navigation system with intuitive voice commands, or an 8″ colour touchscreen. It can connect to Apple CarPlay & Android Auto too, not only this but Applink makes it possible for you to access some of your favourite smartphone apps. Live Traffic will help you avoid those traffic jams, saving you time and frustration. Booking place to eat has never been so easy, SYNC 3 will call up a list of local restaurants just tell it your hungry!
Panoramic Roof: For a lighter and airier feel, the All-New Fiesta comes with the option of a stylish two-part, glass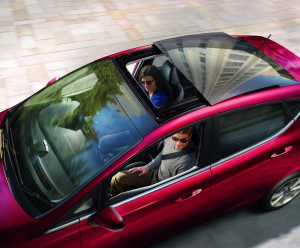 panoramic roof. This luxurious roof either tilts open, or slides back over the rear roof to create a light and airy interior. Whilst the roof allows natural light to flood in, on those particularly sunny days its solar reflective glass keeps you and your passengers cool and protects you from UV rays. At the press of a button an electrically operated roof blind enables you to cover the roof as well.
Comfort is at a maximum with the All-New Fiesta, as for the first time ever this car gives you more front and rear legroom, sculpted rear seats allow your passengers to sit further back too. However, the Fiesta doesn't stop there. Heated front seats for both driver and passenger are an option, providing three different heat settings all at the push of a button. Whether it's a frosty morning, a chilly day, or a freezing cold night, a heated steering wheel is also guaranteed to warm your hands better than a pair of gloves.
Performance & Efficiency
In an All-New Fiesta you will no longer have to choose between exhilarating performance and money-saving efficiency, instead, you can have it all! A 1.0 litre Ford EcoBoost petrol engine puts a five times winner of International Engine of the Year at your command. The Fiesta includes Auto Start-Stop functionality, helping you save fuel every time you stop at the lights. Sophisticated driving dynamics and precision handling deliver a rewarding, no compromise driving experience.
Power.Efficiency,Enjoyment: The revoluntionary 1.0 litre 3-cylinder Ford EcoBoost petrol engine gives you all the power you'd expect from a conventional 1.6 engine, but achieves better fuel economy and CO2 emissions as low as 97g/km. You can also choose a 1.1 litre TiVCT engine that give you up to 85 PS to play with whilst keeping emissions done to just 82g/km. Prefer diesel? Then go for the 1.5 litre TDCi engine that delivers a rewarding 85 PS and achieves a money-saving economy of 88.3 mpg (combined) with CO2 emissions of just 82 g/km for the 3-door and 3.3L/100km with CO2emissions of just 84 g/km for the 5-door. If you want even more power plus efficiency, a 120 PS engine gives you 88.3 mpg (combined) and CO2emissions of 89 g/km. 
Safety and Security
The All-New Ford Fiesta offers a ranger of advanced technologies designed to keep you save in the event of an accident. Features include Pre-Collision Assist, Hazard and Emergency Brake Warning ans Trailer Sway Control*
Pre-Collision Assist: This clever technology, along with Pedestrian Detection, detects vehicles and pedestrians up to 130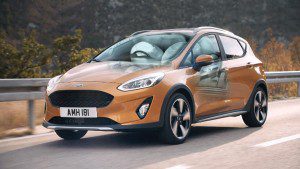 metres ahead and warns you of anyone who could cross the vehicle's path. 
Airbags from all angles: In addition to the driver and passenger front airbags, side airbags are designed to direct the occupant away from the impact area. Curtain airbags also provide maximum coverage and headrests offer protection from whiplash. Fiesta continues to put your safety first with front and rear seatbelt pre-tensioners and load limiters. 
Emergency braking: If you have to brake hard for an emergency, the hazard warning lights come on automatically to alert other drivers. The brake lights flash too, providing following vehicles with some advance warning.
Take a look below at Fords launch videos for the ST-Line & the Titanium!
The All-New Fiesta has arrived in the showroom and doesn't it look beautiful?