We are proud to be a part of the Dereham Carnival this year!
In 2016 the Dereham Carnival was brought back to Dereham with the help of the local business community. Over 30 locally based companies supported the event by purchasing packages which allowed the Dereham Carnival to grow at an ever increasing speed. The response from the public in 2016 was great and the streets were lined with happy people enjoying the activities. This year is set to be another huge success and we can't wait to be a part of it.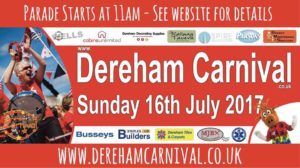 Since opening our Ford branch in 1996 we have felt that we have a close connection to Dereham and the local community, we have received support from the town which allowed us to open our Peugeot branch just last year. And that's why this year we are proud to be a Platinum sponsor for the event!
The carnival takes place on Sunday the 16th July with activities such as, a combat assault course, carnival craft village, tag archery and much much more.
We can't wait for an action packed day full of great music, great food, great games and the great company of the Dereham community.
---
You can learn more about the Dereham Carnival by clicking
here.